Video games are a great way to entertain yourself or even earn money if you have in mind the competitive scene or streaming. Yet, for someone who never had an experience with video games, how would they even start gaming?
There are a couple of options, depending on what you have available to you. Here are some to consider, all depending on what one has in their near vicinity.
Download Steam or Epic or GOG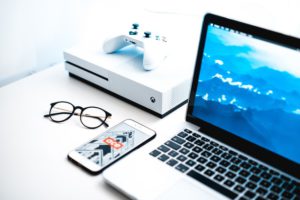 The easiest and safest way to try video games is to download any of these stores/clients. They offer so many games for free, most of them are multiplayer. You can try any of your choice. This will work only if you have a desktop or laptop computer with either a Windows, MacOS or Linux operating system. Have that in mind, but do not be worried, gaming can be tried in more ways.
Use Your Mobile Phone
Both iOS and Android phones have plenty of free games available on their respective stores. These games will give you an idea of what you can expect on larger and more powerful devices. Notably, phones can also run emulators, meaning you can play older arcade or even PS games from decades ago. They are the beginning of gaming so why not start there? Emulators also work on PCs, and even better than on phones.
Console Gaming
Consoles were built for games, meaning that if you can purchase one, older or newer, you can play a plethora of games. Some people sell their old consoles with loads of games, which enables you to play from their library. Consoles are generally cheaper, even more if they are used.
Friends! – Ask to Play on Their Consoles or Computers
This has to be one of the easiest ways to try gaming. You do not have to purchase anything. You just need a friend or two who play video games and you can ask them to try. If they have multiple games installed or available, you can try different genres and see what works best for you. This beats going to a PC or console LAN gaming center, where you have to pay and play around strangers who will most likely be busy yelling at their friends for a play they botched.
Browser Games – They Work
Browser games are amazing if you just want to try something. There are recreations of famous games from ages ago that work on any browser. These require almost nothing other than the ability to run a browser, on either a computer or mobile phone. Take care not to wander off to a site which might have malicious code.
Everybody can start gaming at almost any point in time. These are the ways to go about it.